IGNOU STUDY MATERIAL
Nowadays mostly students do not receive ignou study material. If you choose a digital book in admission timing, ignou will give u a discount in fees. ignou study material will available in digital format and you can easily download it from the ignou website or google play store through the app.
If you select hard copy study material but did not receive study material and you want to study for the exam. you can also download material in digital format. If you want to study deeply for the exam, you can download the study material in pdf form. you can easily access digital books and anywhere.
Egyankosh a  is an online free of cost library for students.   in this library portal, you can download all study material in pdf format in an easy way. This portal is for grow only open and distance learning programs students.


e-content app is an official application of ignou for getting free study materials. if you want to download study material or not receive books. This is the second method for getting free study material in pdf format. you can download it in your mobile app.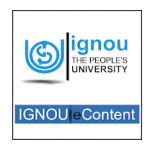 This is the ignou e-content app logo. you can verify or download from the google play store.  IGNOU-e-Content' Mobile App is an Official Mobile App of Indira Gandhi National Open University.  The application size is  6.4 MB only.
Read more :  eGyanKosh: Home
Read more:  How to Write IGNOU Assignments systematically?  
HERE  we are providing a direct link for downloading study material in pdf form. Students can download study material programme wise. you can download all study materials free of cost by download link. students can click on the link and download materials. You can also get Study Materials from the official website of IGNOU.
Master's degree program
Bachelor degree programme